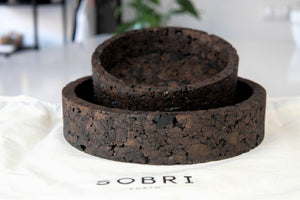 100% NATURAL CORK
BOWLS
Sale price Price €25,00 Regular price
Bowls made from 100% cork to give a warm and natural touch to any space. It can be used to store fruits and vegetables in your kitchen, as a catchall for your hallway or simply as decorative object.

These circular pieces of pure expanded cork agglomerate are available in 3 different sizes and were made

 with a CNC machine, in a small factory in Benedita, Portugal. 

For protection we finish it with a thin layer of water based varnish. 
Learn more about pure expanded cork agglomerate
DETAILS 
100% natural cork

1 reusable bag
DIMENSIONS
Bowl one: 20 cm 

Ø 

Bowl two: 24 cm 

Ø

Bowl three: 33 cm 

Ø

All Bowls are 5 cm high
CLEANING